Winter Training Registration
Winter Training starts January 7th.
Training Sessions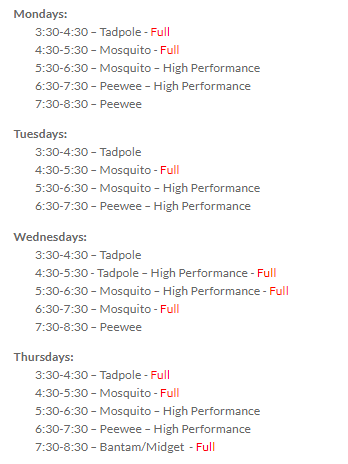 What Division Should I Choose?
The training sessions are based on the player's
Spring 2019 division.
2019 Spring Season Division
| Division | Year Born |
| --- | --- |
| 5U (Rally Cap) | 2014 |
| 7U (Rally Cap) | 2012 or 2013 |
| 9U (Tadpole) | 2010 or 2011 |
| 11U (Mosquito) | 2008 or 2009 |
| 13U (Peewee) | 2006 or 2007 |
| 15U (Bantam) | 2004 or 2005 |
| 18U (Midget) | 2001, 2002, or 2003 |
High Performance Emails
Invitations to the high performance sessions
were sent out by Coach Broatch on September 20th.
Program Overview
Every fall, usually around the middle of October and then again in the winter, around the middle of January, we conduct indoor training programs for players from Tadpole to Midget. The sessions take place in our training centre at South Surrey Athletic Park on 20th Avenue near 148th St.
The sessions are organized and overseen by our Director of Baseball Operations & Player Development, Jordan Broatch, and features trainers with strong baseball backgrounds.
There are nine one-hour sessions per group. For most divisions, there is a regular group, open to any player from any organization, and a high-performance group for more experienced players. The high performance sessions are by invitation only based on the player's evaluation or coach recommendation.
The cost is $200 for one session per week or $400 for two sessions. Cost also includes a dry-fit shirt.
We try to keep the maximum number of players per group at eight to ensure players get the attention they require. The sessions sell out quickly, so please watch for a posting in late September and then again in late December advertising the next sessions.
For more information, please contact Director of Baseball Operations & Player Development, Jordan Broatch.